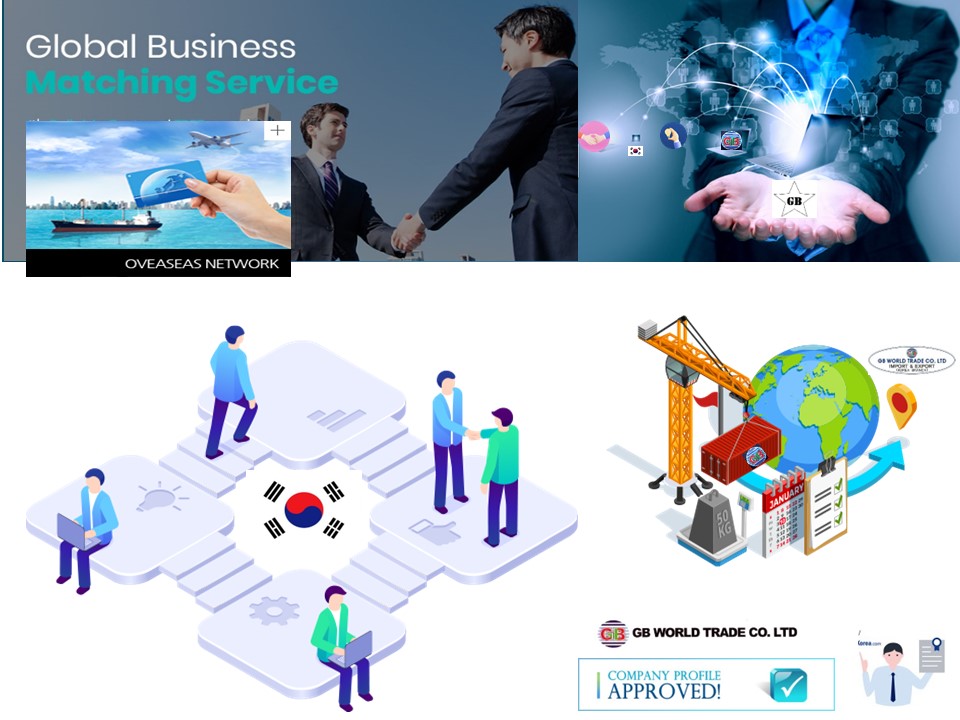 We are a trading company based in South Korea that provides international trade service and inspection services for customers in South Korea, Pakistan, India, and Bangladesh.

Our

Service

include handling and storing stock for loading by containers or LCL, as well as providing billing services based on buyer-required nominations.

Our company deals in various fields, including raw materials, stock lots, machinery, and exports and imports of paper, plastic, plastic film, and job lots.

Our primary markets are South Korea, Japan, Europe, the USA, the UK, and Canada.


SOURCING - CONSULTING
We provide companies service with information to help them grow their business globally, improve their operations, and establish new connections. Our data includes information about sales as well as real estate, which is carefully inspected by our team, and also includes information from our extensive personal network. Additionally, we verify the profiles of companies that you may be interested in working with, ensuring that they are legitimate and not fake companies within your network.
INSPECTION
At GB World Trade, we offer inspection services to companies around the world, including Korea, Pakistan, India, China, UAE, Saudi Arabia, UK, Canada, USA, and other countries. Thanks to our personal relationships and networks in these regions, we're able to provide secure and trustworthy inspection services to both buyers and sellers. Our goal is to ensure the safety and success of all our clients' business endeavors.
QUALITY CONTROL
We conduct precise quality service tests and implement quality maintenance procedures in accordance with the specific requirements of our buyers and clients. We work closely with both parties to ensure that their needs are fully met, and we diligently monitor and manage deals with both companies.


LOADING
We provide a loading service for international companies that require inspection of goods before they are loaded, to ensure that the correct goods are being received from their suppliers as agreed upon in their deals. Our services are designed to be compliant with global legal standards, making it easier for companies to conduct business worldwide.
SHIPMENT
We arrange global shipments, both FCL & LCL, for our buyers and sellers through our network. We also provide pre-shipment inspection services for our clients at a nominal fee. Our goal is to facilitate the movement of your goods to the worldwide market with ease.
AIR CARGO
We provide global shipping services for FCL, LCL & Air Cargo through carriers such as DHL, UPS, TNT, and FedEx. We are also account holders and members of these companies.
DOCUMENTATION
We offer a comprehensive range of logistics services including trucking, packing list preparation, commercial invoice processing, custom clearance, and preparation of shipping documents such as bills of lading (B/L).
Our team also assists in providing necessary information to companies worldwide.
Payments /
Inco-terms
We accept LC at sight (100%) and follow Incoterms including EXW, FOB, CFR & CIF.
EXW: We require 100% advance payment prior to loading and the container will be released from our company.

FOB: We require 50% advance payment prior to container loading and the remaining 50% balance must be settled before the container boards.

CFR: We require 30% advance payment prior to container loading and the remaining 70% balance must be settled within a maximum of 10 days after the container has been loaded.

CIF: The buyer will be responsible for insurance charges. However, if required, we can provide insurance on the buyer's behalf with the buyer paying the charges.



VISA - INVITATION
We arrange for necessary visas, invitation letters, and other related documents for individuals who are traveling to our network countries for business purposes. In addition to business visas, we offer travel guidance to our guests to ensure a smooth and hassle-free travel experience.
AIRPORT - GUEST HOUSE
We offer a range of services for business guests, including airport pick-up and drop-off. Additionally, we provide booking and pre-booking services for hotels to ensure a comfortable and hassle-free stay. Our company also assists clients with the procurement of goods for their business.
INTERNATIONAL IMP. EXP. PROBLEMS & SOLUTION
We have a community Facebook page where we can discuss and find solutions to problems related to import and export. Many people are interested in learning more about the international trade business, but are afraid due to the perceived difficulty and complexity of the process. To address this issue, we have created a smart community that brings together lawyers and trade specialists in one place. Please join us here for more information.
NETWORK [Branches]
"Our trade support service is systematic and comprehensive, offering support for import and export strategy consulting as well as global marketing."
Our trade support service includes trade process handling and trade agency assistance. By leveraging our expertise, member companies and customers can efficiently initiate exports and imports, avoiding the unnecessary costs and time associated with inexperience. Our reliable trade support service also benefits overseas buyers through improved communication, quality control, item sourcing, and schedule management.
We continuously strive to enhance our trade support service to provide our member companies and customers with a comprehensive and integrated solution.

Head 1st Office

Head 2nd & Branch Office's

Branch Office
Welcome to our company's GB World Trade co ltd main page index,
Our company is dedicated to providing top-notch services to our clients, ensuring that all their export and import needs are met with the utmost professionalism and efficiency.
Export Services
Our export services cover a wide range of industries and products, including but not limited to electronics, textiles, food and beverages, and raw materials. We work with trusted partners and suppliers around the world to ensure that our clients receive the best quality products at competitive prices. Our team of experts is well-versed in the export regulations of different countries, making sure that all necessary documents are in order and that goods are delivered on time and in good condition.
Import Services
We also offer import services for businesses looking to bring products into their country. We have established partnerships with reliable suppliers and manufacturers across the globe, ensuring that our clients receive high-quality products that meet their specifications. Our team of import experts handles all aspects of the process, from sourcing the products to managing logistics and handling customs clearance.
Customs Clearance
We understand that customs clearance can be a complex and time-consuming process, which is why we offer customs clearance services to our clients. Our team of experts is well-versed in the latest regulations and requirements of different countries, ensuring that all necessary documentation is prepared and submitted in a timely manner. We work closely with customs officials to ensure that all goods are cleared quickly and efficiently, minimizing delays and avoiding costly penalties.
Logistics
Our logistics services cover all aspects of transportation, from sea and air freight to road and rail transport. We work with trusted carriers and freight forwarders to ensure that goods are transported safely and efficiently, while keeping costs to a minimum. Our team of logistics experts is dedicated to providing personalized services that meet the unique needs of our clients, ensuring that their goods are delivered on time and in good condition.
In conclusion, our company's main page index provides a comprehensive overview of our export and import services, customs clearance, and logistics solutions. We are committed to providing the highest level of service to our clients, ensuring that all their needs are met with professionalism, efficiency, and reliability. Contact us GB World Trade Co. Ltd to learn more about how we can help you with your export and import needs.