PIA (Purified Isophthalic Acid)
PIA is the raw material for PET bottles, paint (paint for automobiles, ships), adhesives, and coating agents. It is a high value-added, capital-intensive product produced by only 7 companies from 7 countries that are USA, Japan, Spain, Singapore, and Korea, and etc. LOTTE CHEMICAL developed it with its world's 5th original technology and is currently the only domestic producer of it.
Avail Plant waste as per photo. Moisture 42% & Quantity 500mt month.
Plastic Polymer Granules &
Recycling waste
ABS - PC - PVC - PS - GPPS - PET - LDPE - LLDPE - HDPE
We offer plastic polymers OG(off grade), Virgin, Recycling Grade, Film Grade
. 120mesh. 25~500kg. Monthly 1000mt regular supply.
LLDPE & PE
(Recycling Pallets)
LLDPE & PE Recycling Pallets. ready for loading 500mt. Inspection personaly, SGS, Payment TT / LC at sight.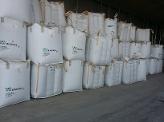 OPP Gumming Tape waste
100% OPP gumming Tape waste for Recycling.